The bloggers at
Asia Obscura
took a taxi out to this park and found it maintained mostly for show. Says Asia Obscura of this curious rotting castle:
Just off the Badaling Expressway, on the way to the weirdest section of the Great Wall, this sprawling amusement park has been almost completely deserted. The pink castle walls and turrets looks well-tended and clean from afar, but are crumbling up close. Massive doors are falling off their hinges, and there are open gutters and even wells, everywhere. There were old ladies, carefully trimming the hedges and sweeping to keep up appearances, but in the back, it all turns to hell. There's a crumbling castle, and the red-iron frame of a building that was never finished — it's now just farmland and dump.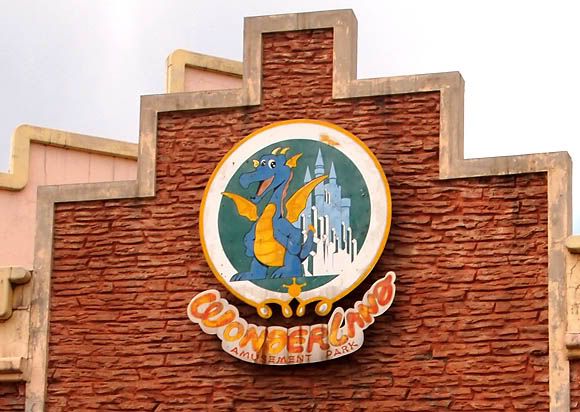 Peep the Disney W's and D's
Check out more after the jump...
The land for 沃德兰 (wo-de-lan) amusement park was purchased back in 1998 and it was supposed to become Asia's largest amusement park. As land prices increased with the upcoming Olympics and pressure mounted from pre-existing parks, the project was abandoned and only the skeleton of the park exists today.